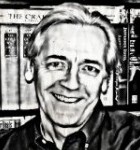 When I watch a horror movie, I can usually peg which characters will be picked off by the deranged villain or will succumb to whatever toxic element threatens the community. The good (and rare) horror movie is the one that has me guessing about the fate of each character.
That's why I was completely shocked Monday night when Gene Pease lurched forward as the Town Council's front man endorsing passage of the library bond. I had him pegged as the responsible character, the witty one who can joke about the dire circumstances in which the cast of characters finds itself but has the wherewithal to find a way out of said circumstances, the one who can provide rational leadership and inspiration and survive through the credits.
In previous bond discussions, Pease was the one who had severe misgivings about issuing the bonds during these traumatic economic times. As I listened to his explanation of why he would vote for the bond, however, I couldn't help but think that he had succumbed to some threat and was explaining (very nervously, it seemed to me) why he was going to open the creaky door to that backwoods shack where the maniac family lives or walk down that long, dark corridor or climb into that pit in which creepy things scurried in the corners. As viewers, we know that nothing good will come of such actions.
So the council's version of a horror movie starring Pease caught me completely off-guard. His endorsement of the bonds was as shocking as watching Janet Leigh get taken out in the shower in "Psycho" – completely unexpected, there goes the leading character, the one who seemed to be capable of making a rational decision and choosing the responsible course.
More and more these days I watch this council vote to do dumb things – like going on a spending spree in the midst of a recession, the sort of action that horror movie characters choose and that no viewer would ever dream of trying. No wonder I get chills and a sense of dread whenever it's time for the council to make a decision about money.
–Don Evans