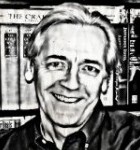 I always hate to see a journalist embarrass himself, but Jesse DeConto has done it again. That's how I figure it after reading his piece on the Orange County sheriff race in The Chapel Hill News.
He seems to be having a bad journalism year, which began with the Chapel Hill election campaign last fall. DeConto doesn't do well when he's called upon to report politics in a fair and unbiased manner. He showed a distinct bias in his reporting of the Chapel Hill mayoral contest last fall. He repeatedly mischaracterized candidate Matt Czajkowski as "pro-business," while going out of his way to describe Mark Kleinschmidt as the candidate who worked for death row inmates. I often heard candidates complain about DeConto misquoting them in his reporting.
Now comes the piece on Sheriff Lindy Pendergrass and his challenger, Clarence Birkhead. DeConto just can't seem to assume a fair stance when he writes about community politics. The piece that profiled the candidates in the April 28 edition is a case in point. Birkhead answered questions presented to him by DeConto. Then those answers were shared with Pendergrass, who was allowed to rebut them in his profile. There was no chance for Birkhead to rebut.
That's an embarrassment to any professional journalist. And it's just plain unfair to readers who are seeking the facts so they can make an informed decision about the candidates. During my time with The News, reporters were taught to give both sides of a story. Reporters were to go out of their way to be fair and evenhanded and allow both viewpoints to be aired. The facts were important, not the writer's opinion.
Looks like times and practices have changed at The News. DeConto deserves blame for his writing. If he wants to foist his opinions on readers, let him get his own blog. His editor is to blame for not pulling him aside and pointing out these deficiencies. Has the paper deteriorated to the point where it will print any old thing with no regard for accuracy or fairness? Sure seems that way.
Birkhead deserves an apology from DeConto and whoever is responsible for content at The News. And while they're at it, they should clean up their act and start acting like a responsible newspaper. Chapel Hill readers deserve that.
–Don Evans