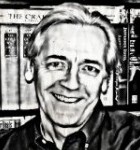 Nancy and I went out Wednesday to put up political signs for our preferred candidates. We also righted signs for other candidates we would not vote for that had fallen over. Putting up signs is always hard work, a lot of walking, dodging cars when crossing streets and making sure the signs we put up don't interfere with those that others have worked hard to put up.
So I was surprised to see today as I drove around that in places where there were several signs on Wednesday there were none – except for those of two candidates.
At the corner of Piney Mountain Road and MLK Boulevard there was a new Lee Storrow sign, but the signs for three other Town Council candidates that were there on Wednesday were gone. The Storrow sign had not been there on Wednesday. Hmmm.
At the corner of Estes Drive and East Franklin Street where the Kangaroo gas station sits and where there were candidate signs on Wednesday, someone had placed a Kevin Wolff sign but the other candidate signs were laid on the ground nearby in a nice little pile – someone had removed them and left them off to the side so no one could read them.
At the corner of MLK and Hillsborough, all Town Council candidates had been removed, except for Donna Bell and Jason Baker, and one for Storrow had been added.
Do the Storrow and Wolff helpers need a refresher course in state law about campaign signs? No one can remove a campaign sign from a public right-of-way except workers for that specific campaign. Removing other candidate signs, especially so that your favorite candidate has a clear ground, is illegal. Plain and simple. And should not be tolerated by any candidate.
Storrow and Wolff should remind their zealous helpers that they cannot legally take down signs they may not agree with. And if it was not helpers for those campaigns who took down the signs, then we have some rogue elements in this bastion of democracy who don't seem to like freedom of expression and would prefer that their own point of view be unquestioned and uncontested. Sad that that sort of behavior seems to come out during every election season.
–Don Evans