I guess town staff spent so much time and effort supplying background information on food trucks, or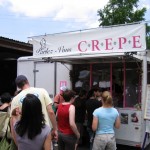 MFUs (mobile food units), for those who like to speak the language, that they ran out of steam when it came to writing the executive summary for the budget recommendation. That cover sheet is blank. Anyone who would like to prepare for tonight's public hearing on how we as a town will spend our tax revenue in the coming year can review the materials from the May 9 meeting.
Town staff know that passions run deep on both sides of the MFU issue, and they have been thorough in their research and balanced in their presentation. MFUs have drawn a fan base from around the Triangle for menu items that seem more authentic if a native of that region prepares it without pretense. The food is often affordable, given that it doesn't have to cover a lot of overhead. The fare served by MFUs may be all the more appealing because food trucks aren't welcome here.
Brick-and-mortar restaurant owners grow anxious at the thought of competition from vendors who don't have the overhead, including commercial property taxes, that restaurants pay. Even though MFUs and restaurants cater to separate target markets for the most part, some customers (call them swing diners) eat out because they don't want to cook their own meals. Allowing MFUs would give this slim customer slice a place to spend their meal money other than in restaurants.
The town could craft ordinances to limit the competition from MFUs: proscribing hours outside of dining rush hours; restricting locations near restaurants; requiring fees that would raise the overhead for MFUs (as if high gas prices weren't enough of a deterrent). But finding town staff to police MFUs and issue permits means taking time or money from something else. And before the MFU issue comes to the table, we'll see a line of people making pleas for funding an array of worthy causes threatened by the tight town budget proposed.
Regardless of whether the council vote goes your way tonight, rent the movie "The Station Agent." The only movie I know that has a food truck in a strong supporting role, it serves up out-of-the-ordinary, deliciously quirky fare that Chapel Hillians eat up. Bon appetit!
– Nancy Oates