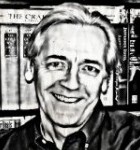 Chapel Hill leaders know where the Kerry Bigelow-Clyde Clark case is going.
You could see it at the hearings, as the two men's former supervisor, Lance Norris, fumbled his way through conflicting and contradictory statements to the Personnel Appeals Committee charged with making a recommendation to the town.
You could see it as Tiffanee Sneed, the town's senior legal adviser, gamely danced her way through legal gyrations that would have made Atticus Finch's courtroom opponent in "To Kill a Mockingbird" blush.
Even the detective who was provided to the town by a union-busting company based in Raleigh acted as if he didn't know who he was working for.
The town is doing its best to sell this comedy of errors as a disciplinary issue with two belligerent and rude workers, but the case that has been made is well past its freshness date. The stink the town is now trying to pass off just gets worse.
Why is the town doing so much dancing? So it can prop up a lie to maintain its façade of this being a cool community run by a cool town staff that is way beyond racial issues and job issues. But that flies in the face of what has been revealed in this case.
So here's how I believe the Bigelow-Clark deal will go down:
The committee that has heard testimony at two hearings for the former sanitation workers will recommend that the town was wrong to fire Bigelow and Clark and that they should be reinstated. That recommendation will go to Town Manager Roger Stancil, who will deny it and rule that the two will remain fired.
Then it all goes to court as civil rights lawyer Al McSurely, who represents the two fired workers, oversees a discrimination lawsuit on behalf of the men. McSurely will win that lawsuit, and the town will have to settle with Bigelow and Clark. Because some town supervisors so mismanaged this affair and the Town of Chapel Hill willfully embarked on a dubious smear campaign against those workers, this will end up with some very big checks being written out to the two men.
Because for the town, saving face is what this is all about.
The irony is that we've seen this all play out before in a strikingly similar case. McSurely represented Keith Edwards, the first black female police officer on the UNC police force. Edwards claimed the police department's practices were discriminatory after a white male officer with less experience was promoted over her. UNC tried its best to blacken her reputation. It lost in court.
Does that sound familiar?
Instead of firing Bigelow and Clark, the town should take a look at Lance Norris and Roger Stancil, the two town officials who got us into this mess. They should be fired. And the town should definitely try to deny them unemployment benefits.
–Don Evans