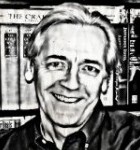 Last night, council member Jim Ward went out of his way to condemn PAC contributions.
"I want to create a climate in Chapel Hill where it's distasteful for that [PAC contributions] to happen," Ward said during a discussion of the town's Voter-Owned Elections law. "What will keep PACs out of here is if all the candidates make it clear that is it distasteful and they want nothing to do with it."
Ward, who sits on the right hand of Mayor Mark Kleinschmidt on the council dais, often serves as a surrogate for the mayor – Ward is the mayor pro tem.
Did he take on the role of apologist for Mayor Kleinschmidt during the VOE discussion?
Last year, Kleinschmidt benefitted from an underhanded tactic pulled by a PAC whose only member was former council member Cam Hill. Kleinschmidt took VOE funds, which meant he was barred from directly accepting PAC money. But Hill's little tactic was not covered by the VOE law — candidates are not responsible for what their supporters do.
Kleinschmidt never condemned Hill's action. Never took a stand on VOE candidates and PAC receipts. Never apologized.
Jenn Frye, the associate director of Democracy North Carolina, had earlier in the meeting praised the program but cautioned that it needed more cycles to see what issues come up. Well, one issue is PACs and how easy it is to get around the VOE restrictions — what Matt Czajkowski rightly labeled "a huge gaping hole" in the law.
Frye said other municipalities would like to try similar programs based on the Chapel Hill model, which required General Assembly approval before it could be implemented.
Let them look carefully at Chapel Hill's VOE law, and what has reared its ugly head with PAC contributions. And let them make laws that set zero tolerance for PAC money in any form for VOE candidates. Because mayoral apologies can be hard to come by.
–Don Evans