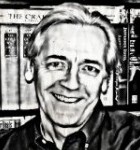 It was a good weekend for zombies and the GOP.
The non-stop spate of movies about the living dead, slashers, predators and merciless aliens broadcast over the Halloween weekend certainly captured the seeming philosophy of the Grand Obstructionist Party as we head into the Nov. 2 election.
The only thing that differs from the current GOP and Tea Party and the horror movies is that at least the zombies want brains – the Republicans and Sarah Palin and her ilk don't seem to be interested in brains at all, from what I've heard of their positions on issues. Looking forward and connecting the dots just are not activities they have time for.
They don't like the health care bill. Does that mean they do like having 30 million Americans unable to obtain health services because the insurance companies won't even give them the time of day? The GOP has always been less concerned with the well-being of society and more concerned about holding onto wealth and power, but that seems a bit callous even for them.
Tea Partiers don't like the direction in which the country is headed and yet they are likely to turn the bus over to the party that started us down this road? I can hear Carl Rove and Dubya cackling in the background at the knowledge that they have yet again jerked around American voters.
Recent polls indicate that GOP lawmakers get about a 27 percent approval rating among Americans. And yet voters are ready to turn the government over to the feckless Republicans because they are angry at Obama. Much of the anger that has infused this election season is grossly misplaced. The stagnant economy isn't Obama's fault – he's just in office to try to clean up the mess left him by eight years of Republican mismanagement and social myopia. How is continuing tax breaks to those who make less than $250,000 a year an outrageous idea? And they think the GOP will reduce the size of the federal government? Pul-leeze!
I fully expect to wake up on Wednesday morning to a re-zombiefied America, one that will continue to stumble blindly toward a food source that includes brains. Too bad they can't take a minute to use those brains to find a better course.
–Don Evans