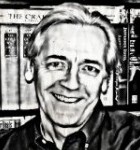 Communication can be key to an organization's success – even Hezbollah has a PR department. I learned that from listening to globe-trotting journalist Thanassis Cambanis, who was at Flyleaf Books in Chapel Hill on Oct. 7 to promote his new book, "The Privilege to Die." The book takes a close look at Hezbollah, the southern Lebanon-based Islamist political and military organization that seems to be fighting an eternal war with Israel.
The book, published by Free Press, is interesting because it takes a subject – an organization that is on the United States' list of terrorist organizations – and looks beneath the veneer of government labels into what makes the group tick and what binds its adherents so faithfully to the movement.
Turns out it is very simple – Hezbollah offers a better life through communication, political organization, education, social interaction, advocacy, and even tree planting. These "terrorists" have improved the lot of millions of residents of Lebanon, a country whose name at one time was synonymous with destruction and chaos. Hezbollah is a very savvy organization that has its eyes on the future rather than the past and is rebuilding southern Lebanon. And it is a lesson in how successful a religious movement can be if it focuses on the well-being of its adherents.
It's important to learn about organizations such as Hezbollah. That way we can better understand them and find ways to deal with them that benefit everyone.
The book is a fascinating study by a man who has worked for The New York Times and Boston Globe and grew up in Chapel Hill. Residents may remember Cambanis from his days as editor of The Proconian, the student newspaper of Chapel Hill High School, and for his journalistic efforts while he was a student at UNC. His first big story covered the struggle for a free-standing black cultural center on campus. His reports for The Daily Tar Heel included one on the arrest of a group of students who had taken over the chancellor's office.
As editor-in-chief of The Daily Tar Heel in 1996, he led a challenge to the university over the state's open meetings law. Among the targets were secret honor court trials of nonacademic cases, including one that involved the supporters of a student body president candidate who stole and threw away the entire press run of a conservative magazine that criticized their candidate. The N.C. Press Association even joined in a lawsuit challenging the university system's application of the open meetings law. UNC eventually was forced to open hundreds of committee meetings to the public. Thanks to those efforts, students and state residents can be better informed about decisions that affect their communities.
Cambanis has worked tirelessly for the public's right to know, whether it's campus stone-walling or what makes an influential religious movement a powerful force in Middle East politics and policy. Hezbollah cannot be ignored or dismissed as a bunch of crackpots. Thanks to Cambanis' book, we have a better chance to understand the group and how it works.
–Don Evans