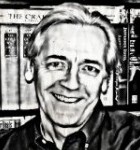 History can be such a nuisance.
That's what the staff at The Chapel Hill News decided. The paper used to keep huge bound volumes (a little bit larger than the size of a newspaper laid out flat) that contained all the newspapers from that publication's rich history. The actual papers themselves – newsprint and all, right at anyone's fingertips.
But someone at the paper decided to downsize and that the volumes took up too much space. So that someone contacted the town's historical society and asked whether it would like to have the archive.
Of course the society was happy to get its collective hands on that treasure trove of town history. Probably a little relieved, too, since it looked like the priceless cache of town memories, spectacle, personalities and history had become a nuisance and was about to be dumped somewhere, anywhere, to make room for the new distillery that would go into the newspaper building.
Newspaper workers packed up the volumes on a few pallets and relocated them to one of the rooms in the basement space beside the offices of the Historical Society at 523 E. Franklin St., where the treasure is available to anyone to peruse, study or just relive history.
The information in the bound volumes is not stored electronically. The vast majority of what those pages hold is not on file in some computer database. The newspaper's computer files only go back to the mid-1990s. Nothing before that time is stored electronically. The only location for it is in those pages. If those volumes are damaged or destroyed, there goes a portion of town history that will be difficult to retrieve.
Of course, the university and the town library have microfilm copies of the papers, but not the actual documents themselves. The bound volumes are a way to hold history in one's own hands, page by page and memory by memory. The town's history should not be looked at as a nuisance or an inconvenience.
–Don Evans