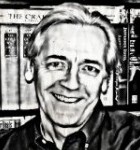 Take a tour of Church Street any time, and you'll see a bigger concentration of students than in most classrooms on campus.
That's usually not a problem. There are times, though, when that concentrated studentness flares into the sort of behavior that a friend complained to me about a few weeks ago. He lives in a stylish cottage in one of the town's historic districts. A nearby house had turned into a student rental, with way more people living in it than allowed – the town's house rule is four non-related persons per single-family dwelling. My friend complained about the extra vehicles, extra yard debris and extra noise.
He tried visiting with the student residents and got some measure of relief – at least the trash was picked up. But it got me to thinking about what a shy neighbor can do if faced with such a situation.
The process is complaint-driven – the neighbor must complain to the town's zoning enforcement officer, who will pay the residents a visit and post a notice. The officer will return later to see whether steps have been taken to remedy the situation.
The office received 154 complaints last year. That's for a staff of one person to resolve. And that seems like an awful lot of households that may be in non-compliance with town laws.
So the question becomes: Just how effective is reporting a nuisance to the town? I would venture to speculate that a town official tacking a little yellow notice on someone's front door is no more effective than the offended neighbor dropping by with a snack to discuss issues.
–Don Evans