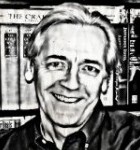 The Barbecue Joint is locked down, and a great big "Closed" sign is taped to the glass door at the entrance. The yellow notice from the Orange County Sheriff's Office pasted beside the "Closed" sign forbids anyone from entering the building.
The Joint's Facebook page hasn't been updated since mid March. And the huge catering truck with the smiling pig on the side is missing from the parking lot.
It sure looks like my favorite barbecue restaurant has gone out of business. The few times in the last week and a half that I've stopped by or driven past have shown no sign of activity at the restaurant on Weaver Dairy Road. There's no answer at the phone number.
All I ever went there for was its Eastern Carolina-style barbecue, for sandwiches at lunch and for the platter when I met friends there for other meals. Even the cole slaw was worth hopping into the car and driving over to pick up a half pint – Nancy and I would use it on our Hebrew National hotdogs that we ate during televised Yankees games.
The chalkboard menu on the wall behind the counter was an adventure just reading. The colorful chalk scribbling listed such dishes as smoked duck quesadillas, grilled wahoo with mango chutney and pumpkin-seed dip with homemade tortilla chips. Co-owner Damon Lapas always asked me whether I'd like some food with that when I'd stop by just to order some cole slaw. And co-owner Jonathan Childres was fun to talk to about baseball.
The Joint even got a rave review in The New York Times.
At one point about two years ago, the talk in the restaurant was about the imminent move to a larger space at the Village Plaza Center, in the space once occupied by Branch's Books. The Weaver Dairy Road location could only serve a max of 38 customers in its 1,600-square-foot space. The new space was supposed to be three times as big.
I made it a point to keep up-to-date with the plans and pestered the staff for updates. It was supposed to open in September 2008 – just about the time the economy tanked. And I noticed recently that the Village Plaza space has a "for lease" sign up in the window.
Now I'm just looking for information on whether the Joint will reopen.
–Don Evans