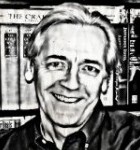 I hadn't noticed the deer chowing down on what's left of my yard in some weeks, and I wondered whether some calamity had befallen the herd. Of course, they've pretty much stripped my yard clean. All that's left are a few nubs of plants, so there's not much to beckon them to revisit. Still, even during winter they seemed to make a pass through the yard once a day.
I knew that Chapel Hill Town Council had not approved an urban archery program to thin the herd, so it couldn't be that the deer were making themselves scarce because they don't like sharp, pointy things being shot at them.
There has been a lot of snow on the ground; could that have affected their feeding patterns? The last time I saw them was during the first big snow storm a few weeks ago, and the accumulation and swirling flakes didn't seem to spook them or inconvenience them in any way. In fact, I saw several lounging in the drifts, seemingly oblivious to the cold and the wet, gazing languidly on the winter beauty surrounding them. Thick hides, I thought.
So what could have happened to the deer? Now I think I know where they've gotten off to. They've decided to go all upper crust on us and have migrated to Governors Club to lusher pickings.
But the deer may have bitten off more than they can chew. Those folks in the GC don't play around – when they see a problem, they attack it head-on. Faster than you can say, "Urban archery," the GC Property Owners Association has gotten permission from the state to cull the herd. That's right, while Chapel Hill is still talking about how to handle the town's very real deer problem, the upper class enclave to the south has launched a search-and-destroy mission. All the deer had to do to get those well-to-do folks in the GC to go all Rambo on them was to start going back for seconds and thirds on the gated community's landscaping and ornamental plants. Hell hath no fury like a nibbled estate.
The problem as I see it is that once the deer realize they are dealing with a less tolerant group of humans, they will decide that, even with the meager pickings left in Chapel Hill, it's a whole lot safer here. They'll migrate back into the neighborhoods where they are most comfortable and get back to ravaging the ecosystem. I'm sure the council will still be discussing what can be done long after the herd has settled back into these nice, friendly environs.
Life's great when you're a deer in Chapel Hill!
–Don Evans