Once in a while, an unpleasant experience turns out to be a gift. Such was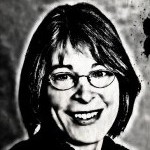 an evening rush hour recently when I sat in traffic on Estes Drive, heading west from Franklin Street to turn right on MLK Jr. Boulevard. Traffic had backed up almost to the library, giving me time not only to come up with a blog topic but almost enough time to write it.
Traffic along that stretch may clog even worse if Town Council approves the staff's idea of doing away with right-turn-on-red at the MLK/Estes Drive intersection.
At last Monday's meeting, Transportation Planning Manager David Bonk laid out three options for making a portion of Estes Drive safer for cyclists and pedestrians. In community meetings, Alternative 2 emerged the clear favorite — a raised bike path about as wide as a sidewalk, next to but separate from the street, and a double-wide sidewalk separated from the bike path by a strip of grass. Because the bike path would stay raised as it crossed driveways, it would create a de facto speed bump for cars going in and out each driveway.
The plan calls for crosswalks on all sides of the box that forms the intersection of Estes and MLK. Bonk mentioned, almost in passing, that cars on Estes would be prohibited from turning right onto MLK after stopping to make sure the way was clear.
As someone who drives through that intersection regularly and bikes through it frequently, I consider the no-right-on-red proposal a bad one from both perspectives.
Estes has short turn lanes that stack maybe eight to 10 cars. Beyond that capacity, anyone wanting to turn right or left has to line up behind cars going straight across MLK. Hence the daily rush-hour backups almost to the library. Draining some of the cars off to turn right helps. If we got rid of that pressure-release valve, all of those additional cars wanting to turn right would be added to the queue behind those going straight.
Pedestrians and cyclists, aware of their vulnerability when pitted against a car, make sure the driver sees them before venturing across the street. If the town posted a sign prohibiting right-turn-on-red, some walkers or bikers might feel a false sense of security and skip that all-important step of making eye contact with drivers. That spells disaster when a driver, forgetting about the turn ban, looks only left for other cars, then accelerates to turn.
I routinely see cars turning right on red at the Hillsborough Road/Rosemary Street intersection and the South Columbia Street/Cameron Avenue crossing, both of which have no-right-on-red signs prominently displayed.
Town staff and elected officials would do well to follow a philosophy of "First, do no harm." As council members, we have an obligation to consider public safety and quality of life of town residents. Prohibiting right-turn-on-red at the Estes/MLK intersection fails on both counts.
– Nancy Oates