Let's say you live in Phoenix Place, near the intersection of Rogers Road and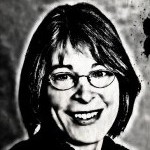 Purefoy, and you wanted to ride Chapel Hill's prepaid buses into town. Maybe you don't have a car or you embrace the walkable community ideal we hear Town Council members and developers talk about. Because bus service along Rogers Road is so infrequent, the best place to catch a bus is at the Park-and-Ride lot on Eubanks Road. So you set off walking that 2-mile journey.
A few dozen people last Saturday afternoon learned firsthand what that trek feels like. Here's my summary: It is long, tiring and hot under the cloudless Carolina blue sky with few trees offering shade. (Note to Mayor Kleinschmidt who favored buildings over trees along the path from the Southern Village hotel to the market center: Trees may not be as engaging as buildings, but they are a welcome, cooling presence for people on foot.)
We walked along Eubanks to Rogers Road, then Purefoy. None of those roads has a shoulder. We had the benefit of a sheriff's escort, which allowed us to walk in the road instead of through the tall grass, likely chigger-infested, bordering the tarmac. And we had the company of dozens of interesting people to chat with to pass the time. Even so, it's not a walk you would do for fun.
Back at the Rogers Road community center, we huddled in the shade of the protective overhangs and listened to Jim Ward, council liaison to the Public Transit Committee, predict what changes in transit service might be possible. Because a new bus costs about a half-million dollars, driver not included, service would have to be increased with existing equipment and personnel. He said the Rogers Road route loop could be shortened so that buses would come by more frequently. Route changes usually are made at the start of fall and spring semester. The Chapel Hill Transit Partners will meet on Aug. 25 and take up the matter.
This being an election year, the hikers included council members and hopefuls. Lee Storrow, council liaison to the Affordable Housing and Justice In Action committees, walked the entire way (as did Ward). Ed Harrison, not up for re-election but a liaison to the Public Transit Committee and a Triangle Transit Authority board of trustees member, spoke at the start of the march. He was unable to walk, but his wife took his place.
I was among the new candidates for Town Council who hiked, as was Jessica Anderson and David Schwartz, and mayoral candidate Pam Hemminger. School board candidates Margaret Samuels and Rani Dasi went the distance as well.
As this is an election year, I urge community members and organizations to bring your issues to the fore. You will leverage your power for change and hold council and town staff accountable to turn theory into action.
– Nancy Oates