Yesterday's earthquake got me nostalgic for the days when anything that went awry we could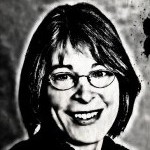 blame Bill Strom. Fortunately, Penny Rich seems a capable substitute. I'd like to move beyond the shenanigans of Rich, but darned if she doesn't keep serving them up to me like prosciutto and melon on a doily-lined platter.
After her impassioned argument at the May 23 council meeting about how the town could charge $100 an hour or more for the space at 523 E. Franklin if it would lift the alcohol ban, she managed to host her catered affair for the bargain price of $25 an hour, same as all the rest of the alcohol-free spaces the town rents. Over the course of the four-hour party she catered, that put an extra $300 in her pocket over what she would have made for the affair if she had had to pay market rate for the space.
And now Rich has emerged as co-chair of Campaign for Jobs and Schools, an organization that has the same august tone as Americans for Prosperity. As co-chair, she has organized some events for elected (and appointed) leaders to "educate" them on the proposed ¼ cent sales tax hike on the ballot in November.
A sales tax increase, unlike a property tax increase, adversely affects low-income people more than middle- or upper-income households. Low-income households are less likely to own real estate, for one thing, but wealthy and poor alike have to buy new school clothes for kids who have outgrown last year's wardrobe. The flat tax increase on all goods purchased has a greater negative impact on smaller budgets than on large ones. Even a small tax increase can shake tight budgets like an earthquake.
It's unconscionable for the relatively well-off residents in the Chapel Hill-Carrboro area to impose a greater hardship on less fortunate residents elsewhere in the county. Having the poor shoulder a greater share of the tax burden for schools and job creation would make Americans for Prosperity proud.
Anyone taking bets on whether Rich's "educational" events will be catered? Maybe the Koch brothers are paying Rich's bill?
– Nancy Oates