Terri Buckner reports on the food truck debate:
If there was any greasing of palms at the food truck hearing last night, it was goose fat. The many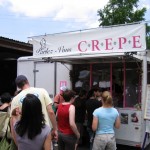 references to goose fat fries had everyone drooling and wishing the trucks in the parking lot could open up for just a little while.
Unlike many public hearings, tonight's audience, as noted by Matt Czajkowski, was full of positive energy and enthusiasm. Due to some unfortunately misplaced car keys, I got to the hearing late, and missed the 3 to 4 local restaurateurs who expressed their concerns. By the time I got there, the truck owners and the truck owner wannabees were sharing their histories and their hopes for coming to Chapel Hill on a more regular basis. Currently, some of the trucks are invited to local festivals and events, but town zoning ordinances do not allow them to legally operate at any time other than special events.
The primary opposition to allowing trucks to visit more regularly is the restaurant owners' fear of unfair competition. The trucks have lower overhead costs and could, without regulation, park in front of restaurants, stealing away their clientele. But as one truck owner said, people go to restaurants to be served. That isn't the street food experience, so there really isn't direct competition. What no one raised is the fact that restaurants serve a more varied menu and alcohol. Their costs may be higher, but so is their income potential.
The benefits of owning a truck over a brick and mortar restaurant are lower start-up costs, the ability to focus on a very limited menu, and the opportunity to test a concept before launching into a full-scale business. Only Burger is an example of this incubator model. They continue to operate their truck, but they also have a brick and mortar restaurant.
Trucks are required to meet state and local health department inspections, although the inspection is not rated in the same way as restaurants. In Durham, they must hold a business license and an itinerant merchant permit. And they are required to be tethered to a commissary (fixed structure). As the Parlez-Vous Crepes owner told me at Johnny's Food Truck Round Up last week, she pays for fees, licenses and taxes "through the wazoo," and that is on top of rent to the property owner.
Besides the truck owners and restaurateurs, George Draper, chair of the Downtown Partnership, and Aaron Nelson, head of the Chapel Hill-Carrboro Chamber of Commerce, both expressed their concerns about competition with existing businesses. Mr. Draper doesn't feel like this is a good direction for downtown. Mr. Nelson suggested a compromise that the required commissary would have to be a Chapel Hill restaurant.
So the bottom line of the debate is local start-up businesses, innovation and great food choices versus fear of unfair competition. The council asked the manager to conduct a review of best practices for towns similar to Chapel Hill (over abundance of restaurants in downtown). Stay tuned.
–Terri Buckner