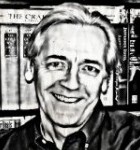 Anyone who has listened to WUNC Radio in the last couple of months has heard the ad for the 140 West project. The ad, which can run as many as four times a day, says that the project "is now rising in downtown Chapel Hill."
Last I checked nothing is rising on the spot where RAM Development Co. wants to build an 8-story condo-office building, and so many deadlines have been missed that it has become a joke – "How many RAM Development employees does it take to screw in a light bulb? I don't know. Check with me next month!"
What reminded me of the rising expectations of 140 West was an exchange during the council meeting Monday night after the topic of Obey Creek came up. Several speakers worried that Obey Creek was being steamrolled through the council, and that Town Manager Roger Stancil wanted to have the town pay $30,000 for a consultant to help the developer plan a project that has not even been approved.
Linda Finch, an architect who represented Neighbors for Responsible Growth, mentioned that a website had all but declared Obey Creek a done deal and was listing joint-venture shares to potential partners even though the suitability of the project has not yet been determined.
Caves Valley Partners in Baltimore lists the Obey Creek proposal as an investment opportunity at its website (www.cavesvalleypartners.com). According to the company website, CVP "seeks outstanding risk-adjusted returns through the deployment of capital to opportunistic investments in superior real estate projects located throughout the United States."
"What's being proposed by the town manager is not in the best interests of the town," Finch said. She said the town is trying to enter into development agreements before developments have been approved and labeled Stancil's recommendation as "an agreement to develop, not a development agreement."
Is Stancil trying to steer the town into the development business? He couldn't explain to council member Gene Pease how the consultant money would be spent, only offering the vaguest of vagaries, kind of like the little boy who got caught with his hand in the cookie jar. Not what you'd expect from a town manager who wants to finance a study of how best to design a development project. Shouldn't the developer pay for that?
We need a much more public discussion about the appropriateness of this development agreement. And less advertisement by developers who neither have the OK to build nor have broken ground.
And by the way, a call to WUNC got a positive response – the 140 West announcement is to be amended and the "rising" is to be taken out, maybe as soon as today.
–Don Evans