What follows is, for all practical purposes, an endorsement, if not an out-and-out advertisement.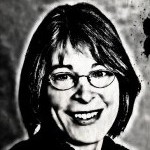 My daughter started an internship at The Chocolate Door yesterday. Brainy and beautiful – and I should know, I'm her mother – my daughter is also bookish and reserved. She tends to speak with her eyes more than her vocal chords. So the most difficult part of the job for her probably came before she entered the kitchen – driving through the construction on Rosemary Street, finding a place to park, figuring out how to get in when the store is closed on Monday. I imagine she was somewhat flustered by the time she met Meghan Rosensweet, who owns the confectionary shop along with her husband, Mitch.
The Chocolate Door – so named because its front door looks like a Hershey bar – has set up shop in what used to be a somewhat dilapidated Chinese restaurant across the street from The News & Observer building. The Rosensweets gutted it over the winter and rebuilt it from the inside out. All through the cool months of early spring, they waved to construction workers walking past from Greenbridge to Italian Pizzeria 3 for lunch, but few stopped in.
The Rosensweets' patience – not to mention their faith in Meghan's chocolates, cookies and caramels – has paid off. People began moving into Greenbridge a few weeks ago and stopping by The Chocolate Door to celebrate. The Greenbridge condos will open in three phases. Two of the residents who will move in during the final phase by the end of summer are Frank and Kaola Phoenix. Frank is one of the partners at Greenbridge; Kaola is a local artist of note.
With people now living in Greenbridge, the west end of Franklin Street is beginning to come alive. A plan is in place for sidewalks where none currently exist. Even Papa John's pizza shop underwent a renovation.
So on Monday, after explaining the rules of public cooking to my daughter, Meghan handed her a recipe for fudge and told her to make a batch, in effect, saying, "Show us what you've got."
Tie an apron on my daughter, and her shyness vanishes. Her passion is creating desserts. When she left home three years ago for school in New England, I swear she was more homesick for an oven than for the family.
Her fudge was delicious, and she was immediately promoted to ganache.
The Chocolate Door opens at 11 this morning. Stop by and see what you think. We recommend the fudge.
– Nancy Oates