We're doomed, Melissa Cain, executive director of the library foundation, told council members Monday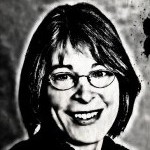 night, if you don't vote to expand the library.
And as seven of the nine council members listed their reasons for voting to sell bonds that would put town residents $20.41 million further in debt, I gleaned from their comments that we are, indeed, doomed.
Doomed to become a town that reveres appearances as its No. 1 value.
Doomed to become a citizenry that wants only the wealthiest among its members.
Doomed to become a community that believes only the people who take on the responsibility of raising the next generation should pay for schools.
Doomed to become a village that races to keep up with the Joneses, in the form of Ames, Iowa, and Manhattan, Kansas.
Do we want to be a premier town? was Cain's rallying cry. And seven council members – Gene Pease, Penny Rich, Ed Harrison, Sally Greene, Mark Kleinschmidt, Jim Ward and Donna Bell – picked up the banner and carried on the charge.
Have you lost your job and your unemployment's run out? Not our problem, they said.
Have kids in college (where even in a deep recession costs rise as financial aid shrinks) and business is declining? Tough luck for you, they said.
Living on a fixed income with ever-increasing medical costs while insurance companies pare down what they'll reimburse? We don't care, they said.
Working for a town that declines to give its employee raises the past two years and expects them to absorb higher medical insurance costs, while its elite council members vote to give themselves benefits for life? So move to Mebane, the seven council members said.
Only council members Laurin Easthom and Matt Czajkowski had the backbone to stand up for their less wealthy constituents and for good fiscal sense by voting to delay putting taxpayers further in debt.
Easthom recommended selling enough bonds now to cover roads and sidewalks and parks and recreation needs, but waiting to see what the economy does before plunging the town into $16.4 million more debt for the library expansion. Last week the town insisted that 140 West Franklin would proceed on schedule with breaking ground in June. This week, town manager Roger Stancil admitted the start date has been pushed back to September. Yet in his budget, he figures in tax revenue from the high-rise as if it would be completed on schedule.
Czajkowski cited the storm clouds gathering on the horizon: The county may change its sales tax distribution, leaving the town in the lurch; council members have ignored the many residents who stated emphatically they could not afford to pay more taxes; council declined to test a library card fee for county residents two years ago that would have tested the impact of that option on revenue.
Taking the town all the way up to its debt ceiling as the number of home foreclosures and unemployment rate increase locally and developments expected to increase town revenue stall, all while expenses – such as the decaying police department building – loom near is a foolish fiscal choice.
But what does that matter if we risk an unfavorable comparison to Ames, Iowa?
Yes, we're doomed.
– Nancy Oates