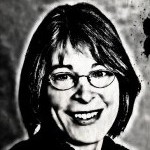 We've been flying at half mast since we learned of the untimely death of civil rights lawyer Ashley Osment over the weekend. Osment battled ovarian cancer for three years, determined that it not dominate her life. In that she triumphed. Cancer may have robbed her of her life, but not of her spirit. A memorial service will be held for her at 11 a.m. today at Chapel Hill Bible Church, at the intersection of Sage and Erwin roads.
Her death comes at a time when the ugliness of mankind seems to be showing itself in full force. She was one of the lights that darkness was not supposed to overcome. In recent weeks, women in our life have been diagnosed with or succumbed to cancer, and we are struck with the arbitrary nature of who cancer chooses as its victims: mothers of children old enough to understand the depth of their loss; mothers of young children who will grow up without the foundation of the unfailing certainty of their mother's love; daughters who will leave their own mothers' arms and hearts empty.
What inspired us most about Osment was her willingness to give her unflagging energy to those who were nearly whupped by the fight. She took on Title VI cases, the federal law that protects individuals from discrimination based on race, color or national origin. She fought to improve the lot of the UNC housekeeping staff. She represented black DOT workers after their coworkers hung a noose in their workplace. She won the civil rights case for police officer Keith Edwards, the first black female officer on the UNC police force, after Edwards was passed over for promotion in favor of a white male with less experience and seniority.
To commemorate Osment and others who have inspired us, do something for the good of the world. Become one of the lights, if only for a moment.
– Nancy Oates