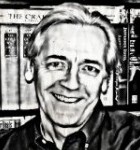 What was the difference between The Cottages and Obey Creek? Both projects went before the Town Council Monday night. The Cottages would build 330 dwellings on 33 acres off Homestead Road. Obey Creek would put 1,200 dwellings and 570,000 square feet of retail/office space on 120 acres across the road from Southern Village.
Council members sat back and gazed favorably on the Obey Creek presentation, but they were openly critical of The Cottages. At issue was parking – The Cottages would put 1,175 parking spaces at its residents' convenience. But given the scale of Obey Creek – almost four times as large acre-wise – there will be quite a few parking spaces built there, too.
So what was the difference? When you come right down to it, the difference was Roger Perry.
Perry's development group, East West Partners, will handle the planning for Obey Creek. And what Roger Perry wants in this town, Roger Perry gets. He seems to be the guy who is behind all the massive developments hereabouts – think Meadowmont, East 54, Buckhorn Village.
And Obey Creek is massive. In addition to the acreage – enough to fit at least three The Cottages within its boundaries – Obey Creek's preliminary plans call for eight-story buildings that will rival what we have in the UNC Hospitals complex. What the town would get if it approved Obey Creek would be another East 54-type development lining another road into town, unless someone on the council or in the planning department can convince Perry to set back the development.
The project will take another one to three years before it breaks ground, and then the planned build-out is 20 years.
Perry told the council "what we're suggesting here is a pretty big deal." He's right about that. Too big for an entryway such as U.S. 15-501. Let's hope the council learned something from East 54. Members who were up for election last year tried to distance themselves from that project because they caught so much grief from residents over the decision to approve. Will they remain true to their constituents and take a closer look at Obey Creek?
I'm with council member Donna Bell – I'd rather see tall buildings in downtown Chapel Hill, not in the suburbs.
–Don Evans