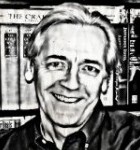 Town Manager Roger Stancil was quick to point out at the Town Council meeting Monday night that going ahead with issuing library renovation bonds would not increase taxes this year. But there is not a single soul sitting on the council dais who believes that renovating the library will not increase taxes. It will; it just won't be this year.
Council members know that with the $16.23 million library expansion comes an increase in staff and costs that will escalate residents' tax burden. It's just that some on the council prefer to wear blinders to keep the uncomfortable fiscal reality out of sight and out of mind, despite whatever debt management plan Stancil comes up with or where he shifts town costs and obligations to make his calculations come out right.
About 40 percent of library usage can be traced to county residents who don't live in Chapel Hill. The town expects Orange County to increase its share of funding for the library, and the results of a recent town-county exchange are expected to be shared with the full council at a May 24 meeting. But nobody should be under any illusion that the county commissioners will just up and wave a bag full of money in front of the council and say, "Here, take this off our hands."
Is there any compelling reason to go ahead with that project right now? No. Having a bigger library would be nice, but it is not an absolute need. We will have the best library in the county regardless of whether the renovation is done. And we still have three years left to issue the bonds. That doesn't have to be done today. We could let the economic landscape settle a bit before making such an enormous commitment.
The bonds were approved seven years ago during a much better economic climate. The state of town fiscal matters today is quite different and even somewhat scary. The town has a number of obligations that are looming, not the least of which is the Lot 5 fiasco and the need for a new police building and Parks and Rec offices. Make no mistake: There will be a request for a bond issuance within two years for Parks and Rec improvements. That, despite the fact that issuing the library bonds will max out the town's ability to borrow. So if the library expands and we can't guarantee the safety of the police building, do we have the cops set up shop in the library?
Our library is not in an emergency status; the Park and Rec offices and police headquarters are. The Parks and Rec offices regularly flood during heavy rain, and the police HQ is literally falling apart. That's why the council was almost giddy at the prospect of getting control of Dawson Hall late last summer.
There's no telling how long Stancil can keep shifting funds from department to department to get the town through this bad economy. Next year is shaping up to be even worse than this year, according to planners with the county. Does adding huge debt make any sense right now?
–Don Evans