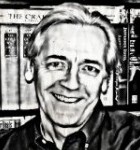 Monday night's Town Council meeting took on the tone of a horror movie – complete with zombies — about the time the debate on the library expansion bonds reached the how-do-we-pay-for-it phase.
The zombies — the gray-haired contingent that has gathered at every council meeting where the library expansion has been discussed — clustered in the first two rows of the council chamber seats and remained intent on one thing – getting that library renovation, and no one or nothing would stand in their way. They sniffed and grumbled and snarled as the council debated. I half expected them to rise from their seats and start shambling arthritically toward the council dais growling "Books!"
They want the library expansion so desperately that they are oblivious to the town's large fiscal problems. Maybe their memories of what libraries used to be are clouding their judgment. They think libraries are those 20th-century warehouses for books. They seem content to ignore the town debt or obligations that would put the town in a real fiscal bind – no borrowing for at least five years after the bonds are approved – as long as they get that damned expansion. God help us if an emergency strikes – guess we can all go read a book until the crisis passes.
What they want is a nice pretty building that shows this community values books. But that's all their version of a library will be. The designs for the library expansion are almost 10 years old. A lot has happened in library use and philosophy since the design was submitted, not to mention new technology, RFID, Kindle or any other library innovation that is reshaping the way people use these spaces. The plain fact is that time has passed this renovation project by. But as Sally Greene voiced at the meeting, "We've paid for the design, so let's build it."
While most of the council members seemed intimidated by the elderly bookworms, Laurin Easthom and Matt Czajkowski stood up and voiced reservations about such an expensive project when town funding is stretched so thin.
But the zombies will get their library – you could see that a majority of the council members can't wait to spend that bond money, regardless of the precarious fiscal state in which it will leave the town. I guess they figure you can't argue with zombies.
–Don Evans