I had forgotten how many, many stars abide in the sky until this past week when I went to a place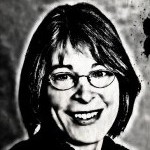 dark enough to see them.
Light pollution wipes them from visibility. When I lived in Manhattan, I never saw a star outside of the planetarium. Over time, light pollution has crept into Chapel Hill, and fewer stars show up. But this past week, along the shore of Lake Michigan, far from any town of significant size, I looked up to see the night sky laden with stars.
My family has been vacationing at this remote spot since my mom was a girl, and over the decades, it has been relatively immune to change. But this year, we noticed some differences.
The water level in the lake is several feet higher, due to melt-off of unusually heavy snow over the past winter caused by changing weather patterns as the planet heats up. Global warming has melted some of the towering ice cliffs that previously kept artic winds and snowstorms from reaching this far south. Houses with basements had sump pumps running around the clock because the water table has risen so much.
More people are traveling farther in search of increasingly scarce undeveloped areas. That irony presents a conundrum for town leaders who so far have not allowed forestland to be razed to make room for seasonal rentals.
Town residents understand that tourist spending enables the locals to live there year-round. Tourists come for the unspoiled forests and beaches, the independent businesses that provide homemade ice cream and fudge and meals made from local ingredients. Town leaders manage growth to accommodate more tourists without sacrificing what brings them to the area in the first place.
This year, multistory condos sprouted from parking lots near the beach, and cars battled for on-street parking in residential areas. One small town used some of its booming tax revenue to build a sidewalk so cars could park along the side of the road where tourists used to walk. Slow-moving traffic choked the main roads.
Town leaders have made mistakes along the way. A few years ago, one town built a bandshell in a waterfront park and did not conduct an environmental impact study nor receive public input. They sited the bandshell facing the nearby homes, not the lake, which resulted in a lawsuit from residents because the performances that ran until midnight violated the town's noise ordinance.
We, in Chapel Hill, need to pay attention to what brings people to the area so as not to melt away our revenue source. Do they come for the trees? Our reputation for green-lighting all development encourages clear-cutting. For the historic neighborhoods? State law won't let us stop the destruction of historic houses. For independent restaurants? Expensive rents are pushing them out and replacing them with national chains. The campus? We need to coordinate better with university leaders.
The solutions are there somewhere. Just like the stars, we need the right conditions before we can see them.
— Nancy Oates