My husband almost became a statistic last week in a bike accident eerily similar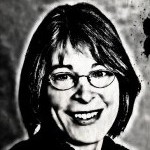 to the one that killed cyclist Pamela Lane the week before.
He and I had come out of the Community Center end of the greenway and were riding on the sidewalk along Estes during the after-work rush-hour. We chose to ride on the side against traffic to go toward Franklin Street because it has fewer risky places for cars to turn into and out of. The side of Estes going with traffic has two bank driveways, the post office entrance and exit, a driveway to a small office complex, the more heavily trafficked egress to The Center and the pork chop entrance and exit to Walgreens. I've seen too many car-on-car crashes at The Center and didn't want to be part of a car-on-bike accident. Cars don't even watch out for other cars there. A cyclist would be only so much roadkill.
So we opted for the side where we had to contend only with a radiology center, a Pizza Hut, the Chamber of Commerce and Caribou Coffee. Don was in the lead when a brownish-gold SUV shot up the incline out of the Chamber of Commerce parking lot. The driver paused briefly, apparently looking only left to check for cars, then made a right turn onto Estes and sped away. (And I don't blame Aaron Nelson here, though I did wonder what kind of vehicle he drives.)
As soon as the SUV appeared in his line of sight, Don slammed on his brakes so hard he flipped over the handle bars. Had he landed in traffic or in front of the SUV, news headlines would have talked about a second cyclist getting killed within days of the first. Instead, Don made a five-point landing on the pavement, leading with his chin. His worst injuries were a finger bone snapped clean in two at one joint and popped out of another, and a cracked elbow. He hobbled to the Fast-Med on the corner, where he received excellent care.
But I couldn't sleep that night, thinking how close he'd come to a much worse outcome. And how that driver could have been me. Who hasn't been in a hurry, seen a break in traffic and gone for it without looking right to see what non-vehicular traffic might be in our path?
We tout ourselves as a bike-friendly town, and when I ride in bike lanes or in the street on the many thoroughfares that don't have sidewalks, bike lanes or shoulders, almost all of the cars and trucks have given me room. But the occasional one that doesn't scares the bejesus out of me.
We are so fragile on a bike or on foot, and far too many drivers pay too little attention to what's going on outside their vehicle. A bike friendly community starts with drivers who are alert, educated and aware.
– Nancy Oates