Lauren Easthom isn't the only one who has to gaze upon dead trees under Duke
Energy power lines. Every time I walk along Piney Mountain Road, I stroll by a copse of trees that Duke has topped, treated and left to die, all in the name of "managing non-compatible vegetation." (The photos at right are of trees under a power line that runs along Piney Mountain Road, near Booker Creek.)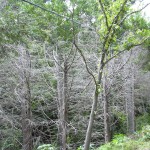 In 2008, Duke Energy agreed to forgo using herbicides under power transmission lines. But at the May 30 Town Council meeting, a Duke Energy representative announced that the corporation planned to resuming using the toxic sprays to kill shoots that come up from the stumps of trees that Duke has chopped down to keep away from power lines. He included photos of areas that had been sprayed, comparing them with areas that had not been treated, to show that in the past four years, little trees have re-emerged in places Duke workers had cleared but not sprayed.
But Easthom countered with photos of her own, showing areas near her home where Duke had sprayed trees 20 to 30 feet tall and left them there to die, becoming potential torches that the Chapel Hill fire chief agreed were a hazard. Easthom told of a fire near her home that started when someone tossed a lit cigarette butt that ignited a dead tree, and the fire had spread along the line of dead trees.
Town Council can't do anything to prevent Duke from spraying herbicides. The Duke rep said that people who don't want an area sprayed that is contiguous to their private property could call Duke to make that request. But Easthom said when her neighbors have done that, no one at Duke knows anything about that or even whom to direct the call to.
Jim Ward suggested painting the stumps rather than spraying a chemical. The Duke rep had never heard of that option. Matt Czajkowski sounded almost lawyerly as he pinned the rep to admit that saving money was the only reason Duke did not haul away trees it had cut down. Given that Duke's top executives receive multimillion-dollar compensation packages annually, Duke should be able to afford to hire a few extra workers to paint rather than spray toxins. Czajkowski pointed out that if Chapel Hill's fire chief considered the dead trees to be fire hazards, the town was obligated to remove them, costing taxpayers money.
Duke is supposed to notify Public Works before spraying, and the town is supposed to notify nearby homeowners, but the Duke rep and Public Works director Lance Norris hedged. Lee Storrow pointed out that sending out a notice should be easy as the town does it frequently for other information items.
Nearly every council member had a question for the Duke rep, who had few answers. He promised to return to council later this month to respond. Czajkowski suggested Duke bring the person who can make decisions.
– Nancy Oates