What does it take to get kicked off a volunteer committee? Ruby Sinreich found out recently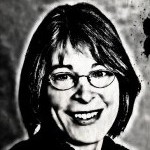 when she was called on the carpet for some inappropriate tweets she sent during a CH2020 meeting. Sinreich was the co-chair of the outreach committee, and feeling frustrated during a CH2020 meeting, she tweeted publicly a derogatory comment that slammed the race, gender and sexual orientation of some people in the meeting.
The CH2020 co-chairs Rosemary Waldorf and George Cianciolo had spoken to Sinreich previously about some inappropriate tweets she'd made during an earlier meeting, mean tweets she may have meant as entertainment but alienated others in the community. Sinreich took those tweets down and made a round of apologies, though she said she "stand[s] by [her] comments." Then another meeting and more inappropriate tweets, and Waldorf and Cianciolo stepped in again, this time asking for her resignation as committee co-chair. Rather than remain a participant in the CH2020 process, Sinreich packed up her ideas and left, convinced she could be "a more effective and way more authentic advocate from the outside."
She should run for Congress. She'd fit right in, sitting by her lonesome, pounding her desk, threatening to walk out if she doesn't get her way. That'll show 'em authentic advocacy.
I've never asked Sinreich how old she is, but I'd be willing to bet I have a good decade on her. And here's something I learned maybe in the decade before she was born, wisdom I picked up on the playground or living in a family with multiple siblings, or in more recent years as a wife or mother or person who works with other people: There are rules of conduct that dictate socially acceptable behavior, and if you want to be effective, you learn them fast and incorporate them in your life.
Rules of conduct don't quash debate; they foster it, by allowing opinions to be voiced without ridicule. People who show leadership set the boundaries to create a safe environment for everyone to be heard. That's what Waldorf and Cianciolo did by letting Sinreich know when she was out of bounds, and then imposing consequences when she didn't listen after the first warning.
Once you've flounced out in a fit of pique, it's all the harder to come back in again, but here are some guidelines that if Sinreich takes to heart will lead her back to a place where she can share her ideas in a way that people might listen to them.
You don't build community by bashing people who are different from you.
You can't work on a team if you walk out when you don't get your way.
You won't open minds if yours is closed.
And for goodness sake, turn your phone off in meetings and pay attention to the task at hand.
– Nancy Oates