To segue into it a council discussion on where to build sidewalks, Mayor Mark Kleinschmidt read a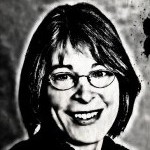 proclamation – would someone please buy the town's video caption writer a dictionary? – supporting National Walk to School Day, which is Oct. 6, one day in National Walk to School Month. Beside him was a prototypical family of four, the two elementary school-age girls clearly not happy at being used as props. While the father beamed, the mother glowered; one child hid herself behind her sister and her face behind a book the entire time, while the other girl scowled darkly. That set the stage for the discussion on sidewalks that followed.
To decide how to spend the money designated for streets and sidewalks that came in through the sale of $20 million in bonds last week, the town created a list of possible places to add sidewalks. The town will then use a rating system to prioritize its projects. Several residents came out in last night's rain to plea for sidewalks in their neighborhoods, many due to the number of students who would not be able to walk to school safely without sidewalks. Residents lobbied for sidewalks along a section of Ephesus Church Road that involved a blind curve; a section along Mount Carmel Church Road from Mallard Court to U.S. 15-501; and one block of North Graham Street between Rosemary and Whitaker streets.
A curious twist came from a handful of residents who spoke out against the North Graham sidewalks, using the argument that residents have lived there for generations without sidewalks and didn't want them now.
Matt Czajkowski voiced the question that must have been on many minds when he asked why the opposition. (No one came to the mike to answer.)
We were left to wonder, was it the extra responsibility of keeping sidewalks clear? If someone slips on an icy sidewalk that the property owner has not shoveled, the property owner can be sued. Or is it backlash against Greenbridge, with residents resentful about having to cede two-and-a-half feet of their property to more gentrification?
While he had the floor, Czajkowski made a plea to town staff to coordinate roadwork projects with DOT, OWASA and others who have the authority to tear up roadways. He has seen the town lay a cobblestone crosswalk at the intersection of Burning Tree Drive and N.C. 54, only to have the state Department of Transportation rip it out and pave it over. (Our taxes paid for both.) He also watched as the town added curbs and gutters in his neighborhood, only to have a crew working on stormwater management remove sections of the new work. (Beginning to see why our taxes are so high?)
Kleinschmidt and Jim Ward backed Czajkowski.
The prioritized list of sidewalks comes back to council for approval Nov. 22, at which time one group in Northside will leave unhappy.
– Nancy Oates