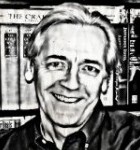 Will Raymond mentioned at the Town Council public hearing Monday night that Google Fiber would bring benefits to Chapel Hill that we can't see right now. He's right about that. But he didn't mention that those benefits will come at a cost in privacy and how much marketers and the government know about us.
The town wants to be a test market for the initiative to speed up Web connections. Everybody's in favor of this one – council members, residents, even the mayor of Carrboro, Mark Chilton, spoke to the council in favor of the effort. Internet speeds more than 100 times faster than what most Americans have access to today? Video-conferencing in 3D? Download a high-def film in less than 5 minutes? Instant access to the Internet? The idea that software may disappear? The potential benefits are heady stuff.
Before we all gather around the video monitor to celebrate, let's remember that Google Fiber is an initiative by the search engine giant to get into the Internet Service Provider business. Google seems to agree with the FCC, which views slow connectivity as a detriment to economic growth. The FCC has proposed to make the United States "the world's largest market of high-speed broadband users," and Google is right there to help — the market, that is. Let's keep that word "market" always in mind as we ooh and aah at the prospects, because there will be a price for all this wonderful connectivity.
Chapel Hill wants Google to build and test its network here. Asheville, Greensboro, Durham, Winston-Salem and Raleigh also want Google to choose them. Duluth, Minn., Huntsville, Ala., and Fresno, Calif., also are vying to tip Google in their favor. More than 100 communities across the United States have declared their wish to be anointed by Google, according to themoderatevoice.com. Stiff competition.
As council member Laurin Easthom pointed out at the public hearing, we're shovel-ready because of a state Department of Transportation initiative to run fiber to each of the town's 100-plus signalized traffic intersections. All Google would have to do is get its fiber to the doors of households.
Raymond was right about one thing – the town must enter into this with its eyes wide open. And getting every household connected to the Internet can be a blessing, that's for sure. But this is the same community that balked at the intrusiveness of red-light cameras. Google Fiber could be a whole new take on Big Brother, because let's not forget, Google is doing this as a business venture and there will be a cost.
The competitive application is due March 26. Go to the town's Web site to get more information and decide whether to lend your name to the petition.
–Don Evans