During the inter-city visit to Lawrence, Kan., last month, some of us went to a hatchet bar. (No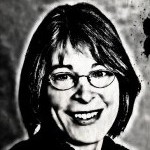 taxpayer dollars were spent there.) It's like darts, only with a hatchet thrown into a thick, wooden wall, instead of a pin in a corkboard. It's harder than it looks, and very few in our group were able to do it. I couldn't, either, on my first two tries. Then the manager came over and showed me how to hold the hatchet and how far away from the wall to stand. I followed her instructions, and on my next throw, I got the hatchet to stick. Everyone cheered.
The next morning, one of the men in our group said, "I have never seen so much anger on a woman's face as when you threw the hatchet." Odd, because I wasn't feeling angry. I was just being an Oates: Focus; get the job done. I wondered whether he would have interpreted my concentration as anger if I were a man, and if so, would it be unusual enough for him that he would comment to me about it.
Last week Brett Kavanaugh showed us what anger on the face of a man looks like. After his mortifying meltdown in front of the Senate Judiciary Committee and the subsequent vote by the Senate to appoint him to the Supreme Court, I sensed that something basic to society had been irreparably broken. Four Republican women, 45 Republican men and one male Democrat are so inured to tyrannical behavior that Kavanaugh's bullying tantrum seemed acceptable to them.
Some people have found that those outbursts are worth the embarrassment to themselves. The response from typically socialized people when confronted with such hysterics is to back off. Let this person have his way; the issue isn't important enough to engage with that irrationality. Does Kavanaugh think that's how the justices of the Supreme Court will respond?
Justices Ginsburg, Sotomayor and Kagan I'm sure have dealt with people like this over the course of their careers. They will know how to handle him. But, idealist that I am, I thought the Supreme Court would be a safe haven from, well, jerks.
With Kavanaugh's appointment, a third of the men on the Supreme Court have been accused of sexual assault or harassment; that's an overrepresentation than in the population at large. And this is the deliberative body that holds our freedoms in their power.
Women my age feel the pain acutely; we have fought so many battles for our daughters over the decades. Our victories have been hard won, and now we see that they are only temporary. We are old; we are tired; and clearly our race is not yet over.
And to my colleague in Kansas — look at my face now. This is what anger on the face of a woman looks like. You'll recognize it in a lot of the faces around you.
— Nancy Oates