It's not that no news happens while Chapel Hill public information officer Catherine Lazorko is away, it's just that no one finds out about it until she returns.
In the wee hours of Friday morning, gasoline spilled from a tank at the BP Family Fare in the 1200 block of MLK Jr. Boulevard that had started renovating the day before. A digger dropped a section of concrete, puncturing an underground tank of high-test while digging footings for a new pump island. The workers didn't realize the tank had sprung a leak, and before they quit work for the day, they set up a sump pump in the hole they'd dug because they were expecting a thunderstorm that night.
Once the rain came and began filling the hole, the sump pump kicked in, efficiently pumping the water and gasoline into a sewer that drains into Crow Branch, then Booker Creek, then Eastwood Lake. A police officer on patrol about 5 a.m. noticed the odor and turned off the sump pump and summoned the Fire Department.
By that time, about 2,400 gallons of gasoline mixed with ethanol had been pumped into our waterways.
Shortly before lunchtime Friday, I called the Planning Department to find out what was going to be built at the BP site. I'd driven by the night before and had seen the mini-mart boarded up, the concrete torn up and the diggers parked nearby. The woman I spoke to couldn't put her hands on the paperwork immediately, but emailed me about 20 minutes later with a summary of the renovation that the Community Design Commission had approved at its Jan. 16 meeting. The plan included constructing a larger pump canopy and relocating four gas pumps.
Evidently, the Planning Department was not yet aware of the gas spill, though by this time the police and fire departments, South Orange Rescue Squad, DENR, the EPA, Zebra remediation services and the contractor doing the work at the BP were spread out from MLK to Eastwood Lake, working to contain the spill.


Lazorko had been away and was not due in until noon. She emailed the first press release by 12:30.
I spoke with a neighbor whose house backs onto Crow Branch. She said that the gasoline fumes had awakened her about 2 in the morning. Once Town Hall opened at 8:30, she began asking questions and was told that no permit to dig had been issued. Perhaps the person she talked with was misinformed, but it is a question someone at Town Hall had better look into.
I spoke with others who watched the cleanup efforts and were impressed by the construction of underflow dams that let water flow through while gasoline, which is lighter than water and floats to the top, was absorbed by fabric rolls laid across the creek. Zebra also used its crisis-strength wet-vac. Nevertheless, some dead fish floated to the banks.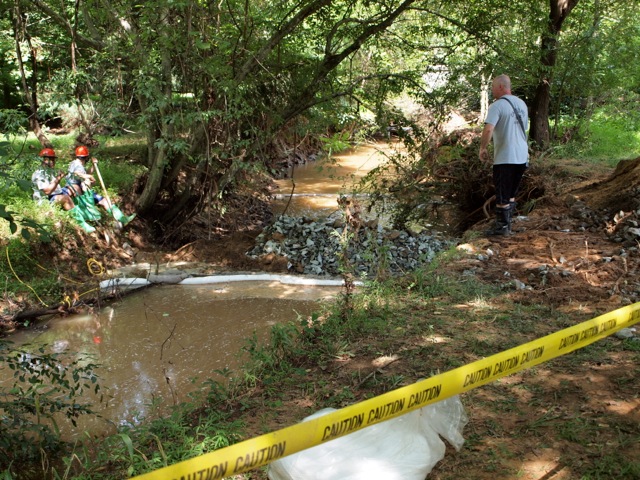 Sure, accidents happen. But putting a sump pump in a hole next to a gas tank was a bonehead move of a magnitude that makes P.J. Hairston look like an amateur. Pollution aside, this was a flammable substance in an electrical storm. We are lucky it wasn't much worse.
– Nancy Oates