When my computer failed last month, I spent a few hours at the Apple Genius Bar, a sort of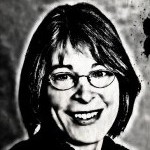 emergency room for digital devices in distress. As I waited for new software to install itself very slowly, I got to hear snippets of people's lives as told through their troubled phones and iPads and MacBooks.
One young woman came in with a phone that had stopped doing the things she needed it to do. The good news, the Apple Genius told her, was that this was a software flaw that Apple would not only fix but upgrade for free, if she would surrender her phone for a couple days for the physical repair. The phone's screen was cracked, though, and Apple would have to replace that, because the technicians would not be able to reassemble a cracked screen. It would cost her $150.
She was quiet for a moment. You could see the budget calculations going through her mind as clearly as if they were laid out in a thought bubble over her head. Finally, she said, "No, thanks."
All of us lined up at the Genius Bar turned to look at her. Essentially a brand-new iPhone for $150. How could she turn it down? But she slipped the cracked phone back in her pocket and left the store.
I observed the opposite end of the financial spectrum last week at an OWASA board meeting when, during a discussion, I realized that I was perhaps the only one at the table who knew how much my monthly water bill was. Everyone else, it seemed, had automatic bill pay and had no idea how much water they used or what they paid for basic living expenses. The amounts were deducted from a bank account so deep they never thought about it running dry.
People from a wide range of life circumstances call Chapel Hill home. To make decisions that create an environment where people from one end of the wealth spectrum to the other can thrive, those of us on Town Council need their input.
Next month, council will vote on changes to rules about who can serve on advisory boards. One proposed change is to institute a "three strikes you're out" policy whereby anyone missing three meetings in a row is automatically tossed off the board.
Certainly a chronically empty seat serves no one. But we don't want to lose the valuable perspective of someone just because the store manager called them in for a last-minute shift or the car wouldn't start or a child threw up. Whether to keep someone on the board is best left up to the board itself. We need to soften the language to give boards that discretion.
We make better decisions when we have information from different perspectives, from those who know the impact of an unexpected $150 expense, and from those who don't even know what their expenses are.
— Nancy Oates